Vitargo is scientifically proven – a complex super high molecular weight carbohydrate, that is the fastest carbohydrate available, used by my clients and countless athletes all over the world for decades. A game-changer!
VITARGO + THE NEW POWER EATING
Transform your body as you build muscle, lose fat, and maximize performance.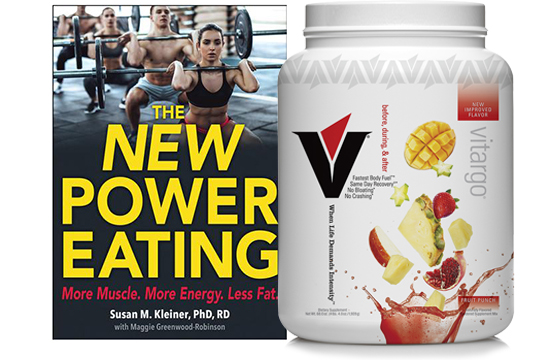 THE NEW POWER EATING + VITARGO 50 SCOOP $89.50 VALUE

Please feel free to use coupon code "POWEREATS" for a special discount on your order.
Achieve your optimal performance goals
SPORTS NUTRITION FOR ATHLETES
SPORTS NUTRITION CONSULTING
Dr. Kleiner consults sports teams, and start-ups and established businesses in the food, beverage, and nutritional supplement industry.
CORPORATE/TEAM CONSULTING
Dr. Kleiner has changed thousands of lives through her personalized, trademarked High Performance Nutrition® and Power Eating® programs.
SPEAKING ENGAGEMENTS
Dr. Kleiner has decades of experience in all forms of media, and is highly respected and sought out nationally and internationally.
BOOKS & PRODUCTS
Author of 10 books, Dr. Kleiner continues to offer science-based advice that makes a real difference.